2022.01.07
Cellusion obtained JHVS Venture Award 2021
Tokyo (January 7th, 2022)-, Cellusion Inc., a regenerative medicine startup aiming to solve the global Corneal transplant waiting list problem with a unique differentiation induction method from iPS cells to Corneal Endothelial Cell Substitute from iPS Cells (CECSi Cells) for bullous keratopathy novel treatment (PJ code: CLS001), today announced it has been selected to Japan Healthcare Venture Summit (JHVS) Venture Award 2021. This is the second time Cellusion has received this award, the first being in 2019. The award ceremony and memorial lecture are scheduled to be held at the JHVS2021 Symposium held February 3rd-4th, 2022 in Tokyo. Encouraged with this honored award, Cellusion will accelerate to deliver novel regenerative therapy for all bullous keratopathy patients.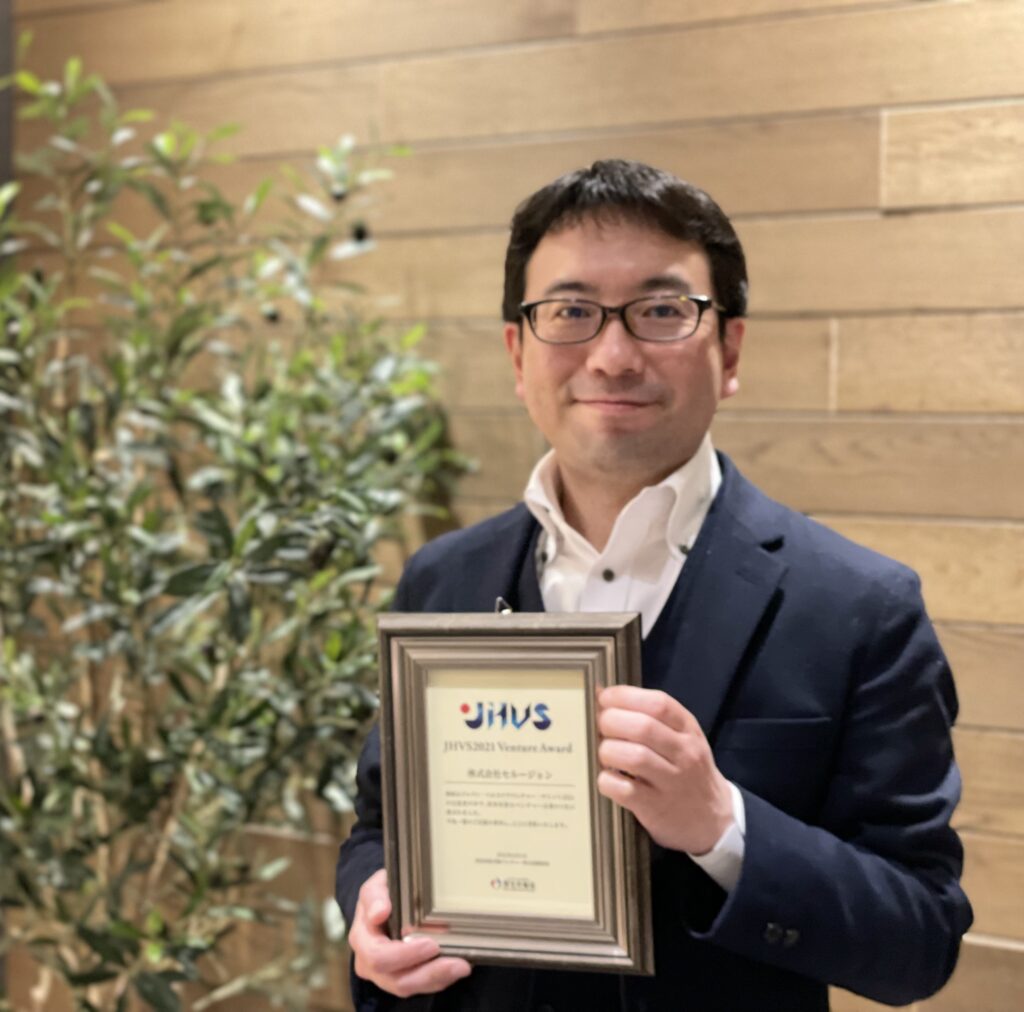 [About JHVS2021 Symposium]
The JHVS Symposium is organized by the Ministry of Health, Labor and Welfare (MHLW) as part of the JHVS, with the aim of accelerating the commercialization of outstanding technology seeds and ideas held by biotech startups and supporting their business development in the ecosystem.
For more details of the Symposium, please visit the following link.
https://www.jhvs2021.jp/symposium.html
[About CLS001]
Despite of the fact that more than 13 million waiting patients for potential blinding diseases such as Bullous Keratopathy, which can only be prevented by corneal transplantation, only about 180,000 corneal transplants are performed annually in global. The reason for such the large medical supply-demand gap generated is because current treatments require donor corneas, skilled corneal transplant ophthalmologists, and Eye Banks.
Cellusion is developing CLS001, CECSi cells for Corneal Endothelial regeneration to cure Bullous Keratopathy which is applied more than half of all cases of corneal transplantation. CLS001 is expected to replace the current supply limitations by combining "CECSi Cells made from iPS cells with excellent proliferative properties" and "a simple injection cell delivery procedure without needs of human expertise. "
The initiation approval of the CLS001 first in human investigator-initiated clinical study has already been obtained from the Keio University Specially Certified Committee for Regenerative Medicine as well as the Health Sciences Council of MHLW in July 2021. Keio University and Cellusion are scheduled to start the study at Keio University Hospital as soon as it is ready.
[About Cellusion Inc.]
Cellusion is a regenerative medicine startup born from the Department of Ophthalmology, Keio University School of Medicine in 2015. Cellusion aims to contribute to the improvement of health and well-being around the world by solving unmet medical needs in medicine with its cutting-edge cell therapy technologies, including a unique differentiation induction method from iPS cells to CECSi Cells. Cellusion's mission is to a community the clear vision of the future with cellular technology breakthrough.
Company : Cellusion Inc.
CEO : Shin Hatou, M.D., Ph.D.
Headquarter :1-13-7 Nihombashi-Muromachi, Chuo, Tokyo 103-0022, JAPAN
Founded : January 2015
URL : https://cellusion.jp/en/
Contacts
Joji Hayashida
Cellusion Inc.
+81-3-5843-1785
For further information: please ask us through the contact form on our website.